Sea freight shipping is one of the most economical forms of transporting goods internationally. Sea freight forwarding, also known as ocean freight, is a suitable transportation option for  businesses who are associated with larger companies exporting a high volume of commercial pallets. With LCL (part container load) sea freight services can also be a great way for transporting personal goods.
At VSL, our Sea Freight services will facilitate your international shipment with the global relationships of more than 300 associated network partners across 130 countries. For large shipments, having your own container as a Full Container Load (FCL) is a best and cost-effective solution. If the volume of goods is smaller, then you may share a container with other shipments and it is known as Less than Container Load (LCL). We at VSL, specialised in both LCL and FCL sea freight shipping services.
VSL Logistics Sea Freight solutions include consolidation, providing you with a number of cost benefits. These include the merging of diverse cargoes, allowing containers to be fully utilised at a lower cost and a reduced transit time. Much of our consolidation arrives at our warehouses in London saving you time and money when it comes to delivering your goods to customers. Consistent, reliable sailings ensure that your Sea freight shipments always reach your customers in a timely manner.
VSL Sea Freight Services Include
Full Container Load (FCL)
Use FCL ocean freight shipping for valuable cargo that you wouldn't want to transport with other cargo (LCL). FCL is also a good option if you need to ship larger loads (12+ pallets)
Less than Container Load (LCL)
LCL shipping means you'll share container space with others that are also shipping cargo. This can be a more cost-effective option for shipping smaller loads overseas.
Container Loading & Unloading
We ensure that your containers are safely loaded and unloaded from vessels and offer our ground shipping network for transportation to a final destination.
Roll-on, Roll-off (RoRo)
Roll-on, Roll-off ships are ferries designed to carry wheeled cargo. We at VSL, ship any type of roll-on, roll-off cargo such as automobiles, trailers, tractors, motor homes or any type of heavy machinery or equipment on wheels that can easily be rolled on and off Ro-Ro vessels for transport.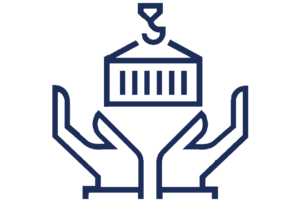 Cargo Insurance
Cargo insurance is essential and protects your goods against loss or damage to your cargo in transit overseas. Our different cargo insurance options protect from seawater flooding, storms and acts of God, vessel collision and other unforeseeable events.
Reefer Containers
We can ship your goods overseas in refrigerated or temperature-controlled containers to protect them from spoilage and humidity. Your goods can be shipped at the ideal temperature for your products in Cargostore Reefers with secure lockable doors, whether it is below freezing or moderately cool.

Hazardous Containers & Dangerous Goods
Dangerous goods include but are not limited to: pharmaceuticals, explosives, gases, flammable liquids and solids, corrosive substances, oxidizing substances, dry ice, lithium batteries, fuel cell engines. Our logistics partner for Dangerous Goods are Certified and transport your hazardous goods overseas safely to their destination, in compliance with UK and international regulations.
Shipping Documentation for Importing & Exporting
Obtaining letters of credit and other documentation necessary to complete the importing and exporting process can be a headache. As experienced freight forwarders with more than 300 associate partner globally, we at VSL make this process as smooth as possible and provide you with bills of lading and the necessary documentation to facilitate your importing or exporting process.
Transloading Container Trucking from Port to its Destination
Transloading is the process of moving a shipment from one mode of transport to another (e.g., from ocean container to truck). We will help you eliminate warehousing costs and meet just-in-time delivery demands with our transloading container trucking services. As soon as your cargo arrives to the port, it can be loaded onto our trucks and delivered directly to its destination.
PARAMETERS OF SEA CONTAINERS
Frequently Asked Questions
Sea freight is an essential component of global trade, providing a cost-effective and efficient way to transport goods across long distances. Whether it is moving large volumes of goods or transporting bulky or heavy items, sea freight plays a vital role in the supply chain. One of the key advantages of sea freight is its cost-effectiveness. Compared to other modes of transport such as air or road, sea freight is often the most cost-effective option, particularly for long distances or large volumes of goods. Sea freight is also less affected by fuel price fluctuations, providing greater predictability and stability for logistics operations.
How can we help you?
We are keen to discuss your shipping needs and work closely with you to successfully achieve your business goals.